All these dogs you are about to meet, were helpless on the street before they came to IDA. They are the elderly, abandoned, have health problems, blind or are handicapped with special needs.

We believe that like our human companions they too deserve and have the right to live in safety and comfort. Their needs are simple, and they appreciate everything we do for them and if they are content, well fed, healthy and happy, we know we have done our job well.

Please do be a partner in this wonderful work and sponsor a dog of your choice for just Rs.12,000/- a year.

With your kindness and generosity, you will make every difference in allowing us to help them.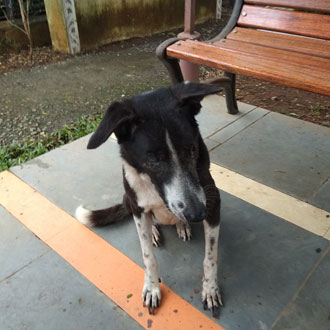 MARCUS
I'm one of those tough guys and have always lived around tough guys also. I'm from near Tata Nagar Police Chowkey, Govandi West. Other male dogs have always engaged me in fights and I was a willing participant. That is, I was until one day in a fight, my one eye was very badly damaged. A good man who knew about this lovely hospital in Deonar, brought me in - it was August 2017. My eye could not be saved and the other eye as well has now started giving me trouble. I must say, I was brought to the right place! Full of lovely people, great staff and personalised treatment on a daily basis. We have all comforts of home here which I certainly didn't have living on the street! Bed and couch to lounge on, a nice big airy enclosure in the middle of all the action, a big garden attached and the food is great! No more fighting for me. I live the retired life now looked after and cared for in every way.

But one thing we all need and that is our very own Guardian Angel. It would be great if you could choose me.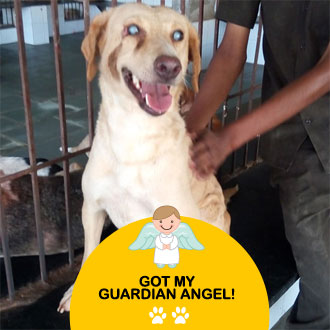 BELLA
Hi, I'm Bella and i'm a very good-looking high energy fun loving girl. I was brought to Deonar Centre by the Night Van, almost two years ago as I had a bad maggot wound and needed to be hospitalized until it healed. I was brought all the way from Sethia Nagar - Saki Naka, and I am very grateful that some kind person called the van to take me in for treatment.

I was having trouble seeing things on the road and I was a bit scared about this. It was during my stay here that the kind Doctors noticed that I had developed cataracts in both eyes. So here I am, happy and safe and well-fed and also loved. But I'll let you know a secret.

I'd just love to have a Guardian Angel all to myself and I hope it will be you.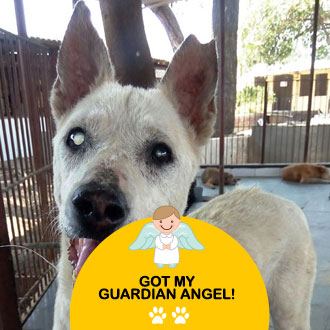 BIG WHITE
Hi, I'm BIG WHITE.

You can see how I got my name.

I'm tall broad and handsome, so what if I am blind. My rescuer was a dear lady called Mrs. Ahuja who lives in Tagore Nagar where I was born and grew up. She, noticed that I was bumping into things, so she made arrangements and brought me to IDA which I now love. I have good friends among the Vets, the Wardboys, the Volunteers and I am treated so well that, I've learned to like the easy life where I am pampered thoroughly.

Will YOU be my Guardian Angel? All of us need just one!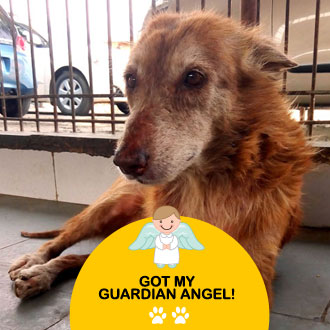 GINGER
I'm a shy girl called Ginger. I've always been timid even when I was a pup, with my naughty brothers and sisters. Now I am quite old.

I've lived for quite a long time in Kurla West near BKC. Quite suddenly everything around me went black and I couldn't see there on. I was really lucky as a very nice young lady called Soumya, noticed I was blind who came to my rescue and sent me to the IDA India Centre. Here I am now, very well fed and looked after. I like the staff who look after us, all my friends who are in the specialty blind ward with me who also cannot see, the ward boys who's voices I know so well and I'm happy because I've never had so many friends before!

Now all I need is a kind person like you to become my Guardian Angel.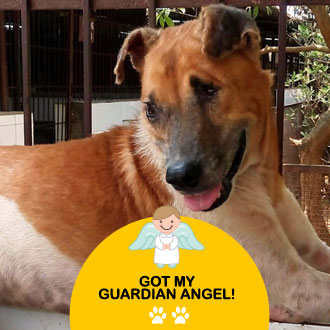 JOCK
Hi! My name is Jock and I have been at the Deonar Centre from 2014.

I used to stay quite close by in Chembur at Navjeevan Nagar, but for some reason, I started having trouble seeing anything on the road. In Chembur there is a very good person called Rajesh, who has been caring for and feeding a whole lot of us dogs on the road for many years. As soon as he notices that one of us is sick or having some difficulty, he contacts the team at IDA India Deonar. It was he who understood that I was going blind and he was right. Now I can't see anything! But for us dogs that's not much of a problem. Our noses work very well indeed. As long as I can smell my friends around me and get the exciting smell of the good meal that is served twice a day, that's enough for me!

But I still need a special person; a real Guardian Angel. And I think that might be you!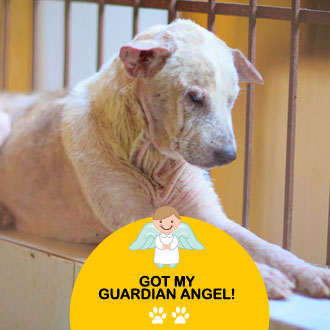 MOLLY
Hi everyone, my name is Molly and I was rescued and brought to Deonar Centre in 2015.

I was rescued because I am blind and was quite helpless on the road. I feel bad to tell you this, but when the IDA India ABC Van staff saw me and came to my rescue, I was standing beside a big garbage bin in Chandivali. There was nowhere else for me to stand. We blind dogs have to eat, so I used to wait there for people to throw scraps of food every day along with their other garbage. It is so different now! I have a lovely room where I sit high up on the bench and enjoy the cool breeze of the fan. I'm fed such nice meals every day and I have medical attendants looking after me as I have a skin problem. Once I am cured, you'll see, I'll look great.

Now all I need is a kind person like you to become my Guardian Angel.
Thank you so much in advance!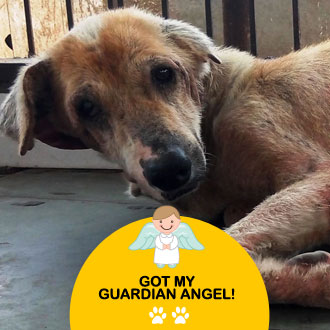 MONI
I'm a quiet and sweet dog and my name is Moni. I came to the Deonar Centre quite long ago, in 2012.

I'm really happy to be here as I used to live in the Dharavi Slum area in Sion. All the people there are very very poor and they don't have much food to share with us doggies. But I must say, some of them are very kind to all us animals as well. Somebody noticed I was blind and I was then rescued by the IDA India ABC Van. It was so nice to come to the Centre. There is no need to worry about food, water, and even the heat or rain. I'm safe here and many kind people care for me as they love all of us animals rescued and housed at the Centre, I do have a bit of a skin issue right now but I will recover with all the love and treatments the doctors give me here.

I just need one more person to care for me - a Guardian Angel - and I hope it's you.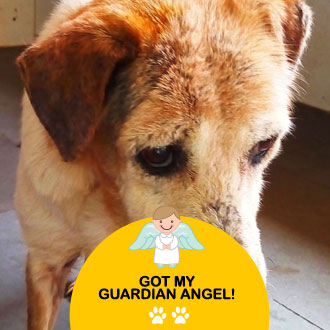 SUSIE
Hi, I'm Susie and I'm from quite a nice area in Mumbai,
Lokhandwala, Andheri West.

I was such a lovely pup and young adult, but unfortunately, I slowly became blind over the years. I have good friends in the area where I lived and they noticed I was having a problem seeing things. I was rescued, taken out of danger and sent to this lovely IDA India Deonar Centre. No problems here. I am well-fed, living in a nice cool enclosure along with other blind dogs and there are many good people who care for all of us and see to all our needs.

I only need one more good and kind person in my life now; my very own Guardian Angel, and I'm very sure it's you.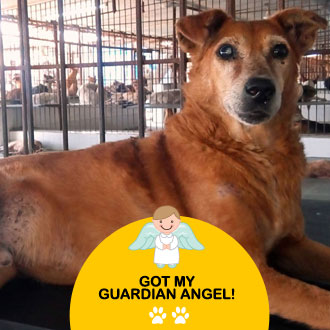 JOHNNEY
My name is Johnney and I've been at this wonderful Centre for the last three years.

I was rescued and brought in because a kind person called Mr. Ray, noticed I had become blind and just couldn't manage on the road. I used to be like a king in my area near BARC Chembur. If you are a street dog in Mumbai, it helps to be very big and strong because, other dogs give you the greatest respect. Once I got blind, it was a different story. So I had to be rescued and was brought to Deonar Centre. Love it here! I can relax anyway I please and have many good people catering to all my needs. I really like the good food served twice a day! Nothing like that when I lived on the road! Now all I need is one good person to become my Guardian Angel. This is a nice programme which helps our care-takers look after all us blind dogs in the best possible way.

Can you help too by becoming my very own Guardian Angel? After signing up, do come and meet me too!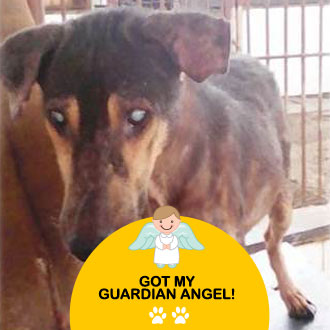 JEMMA
Hi, I'm Jemma and I'm writing to you from my new home - the IDA India ABC Centre at Deonar. I used to stay in the suburb of Kandivali inside a school compound. It was a nice place and I liked to see the children come to school every day and run about and play at break time. Lots of kind people there and one day a special friend Sourabh, noticed that I was bumping into things. He contacted IDA and I got me a place to stay where I would be completely safe and well-looked after. I really like this place and I specially love weekends when I get to meed so many kind people called Volunteers.

Now I just need one more very nice person in my life, and that is you my dear Guardian Angel.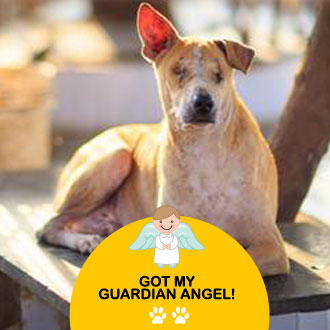 TOMMY
Hi, I'm Tommy from New Mill Road, Kurla West and I used to stay in a rough tough area of Mumbai. As you can all see, I've always been a tough guy and still am! Once when I was fighting with a strange dog who had entered my territory, I lost one eye in the battle. It was 2012 and I was brought to the IDA India Deonar Centre for my eye to be treated after a kind lady from my area called for help. The Doctors here noticed that I could not see from my other eye as well so I stayed here itself. My fighting days are over but I'm more than happy about that ! Good grub, good friends and a nice place to crash when I feel like it - what else does a guy like me need?

Oh Yes! Forgot! I just need a Guardian Angel now and I'm sure that is you!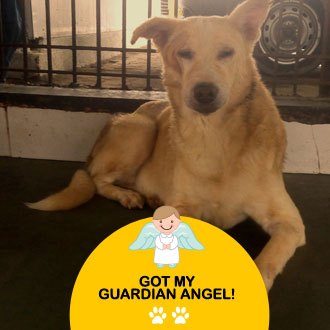 JENNY
Hi, I'm Jenny and came to our Deonar Centre in 2014. I used to stay in Chembur Phule Market near the slum area. I had many friends but slowly I started losing my sight. Vijay Gorde, a poor man, was very worried about me as I was having trouble living on the road. This kind man brought me here to the Center and I've stayed here ever since. All the people here are so kind and take good care of me.

Now all I need is a Guardian Angel and I'm sure it is you.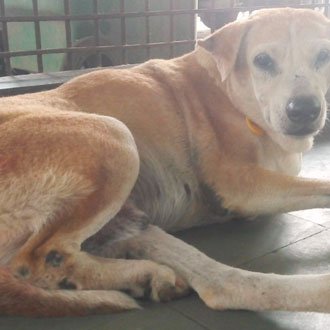 MR. BISCUIT
Hi my Caretakers call me Mr. Biscuit, but I'm really actually a big tough guy and all my doggy friends in the Blind Ward know this only too well. I was found by a kind girl called Devika near the Chembur Garden. She was worried because I couldn't see very well so she got me into this lovely Centre at Deonar on 29th August 2016, where I have very comfortable quarters, a cozy couch to lie on if I like and lots of good food to eat every day. I have also been sent to the Eye Doctor and now I am on medicine which might help my sight.

Wish me luck! But I will be the luckiest dog in Mumbai if I have a wonderful person to be my Guardian Angel. I hope it is you.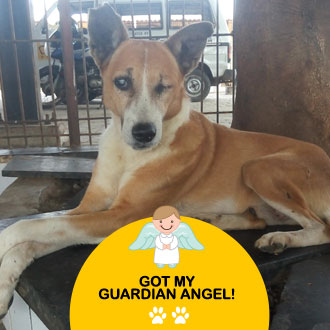 WINKY
My name is Winky and you can see why! I know I look handsome and the wink helps! A poor lady in Kurla West who looks after the street dogs there, called up IDA India after my one eye got badly injured in a terrible fight. I was brought to Deonar in 2013 by the IDA India Ambulance and had to have an operation on my badly injured eye. I lost my poor eye and the other eye had a bad cataract so finally I couldn't see at all. No problem, these kind people look after me so well and I have so many good friends here as well.


Now I only need one more; a dear Guardian Angel like you.
BEENA
Imagine this, 5 years ago I used to live in a tabela with cows and buffaloes for company and I also lost my sight. I got into the habit of snapping at people because they carelessly stamped on my paws and hurt me passing by. Luckily a kind woman Beena Thakkar noticed my plight and called IDA, India. I have a fun group of good doggie friends to mingle, my best friend being Tommy, we do everything together. I am taken for walks by my volunteer friends and treated very well by all at IDA.
Now I just need one loving Guardian Angel to complete my life!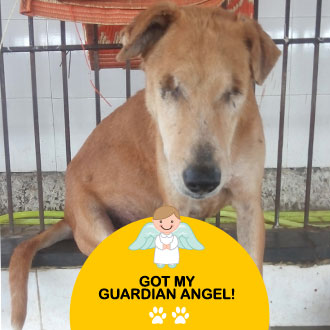 LAILA
Two years ago I caught a very bad eye infection, living on the street near mankhurd station, the infection was so very bad that it quickly spread and I lost sight in both my eyes, I just could not see where I was going at all. One fine day, I wandered onto the railway track and I would have been hit by a train, but I was picked up just in the nick of time as the IDA, India van had come on a call nearby and spotted me standing on the tracks. They saved my life that day, I was brought to the center and have been living here happy and safe ever since.
All I need now is a guardian angel like you.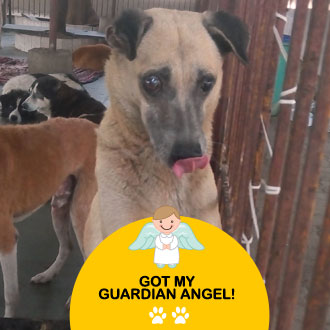 PUGSIE
I've always stayed in Vikhroli and slowly started losing my sight, I liked to walk about my locality and check everything out, however I started bumping into things. Fortunately a friend of mine laxman living in the police quarters noticed my issue and called IDA, India. When I was brought to the Deonar Center the vets confirmed that I was completely blind. I've been staying in this comfortable place since January 2017. Thanks to my policeman friend I am now safe and sound with a lot of other blind doggie friends for company.
I am just waiting for my own special guardian angel.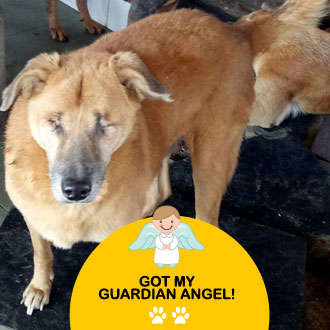 TANGIE
I've lived for many years in Mankurd and done very well for myself even though I have always lived on the road. I look very good as I have a lovely orange fluffy coat and local people were always kind to me. As I became older, I suppose I became slower - we roadside doggies have to always be alert! One day, I carelessly wandered onto the railway tracks and absentmindedly stood there. I suppose a slow train came along, because the next thing I knew was everything disappeared and I couldn't see a thing. I am told this happened at the Mankurd Railway crossing. As I stood there, my eyes totally damaged, to my good luck, the IDA India Ambulance was standing at the closed level crossing, and I was quickly taken back to the Deonar Centre. From that day, my life has been comfortable and happy. Doctors treatment every day when I need it, friends around, lovely food to eat twice a day. Only one thing is left, all my other friends have Guardian Angels.
Now that's what I would really like too; a loving Guardian Angel of my very own.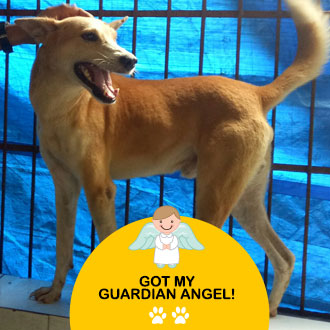 SHIVA
I'm actually a strong young dog and I had come in some months ago as I had been in a fight. Yes, I had a big maggot wound and I stayed at the Deonar Centre for a couple of months until it healed fully. I'm from quite close by; Ambedkar Gardens in Shivaji Nagar (hence my name!). I was fully healed, operated and enjoying my life back at my locality when something really bad happened to me. I was sitting nearby a Welding Shop while work was going on. Suddenly, some sparks flew straight into my eyes! It really burnt and I was taken at once back to Deonar Centre with the help of my friend Santosh. There after treatment, the Vets discovered that I couldn't see! Since then I have been here, and my kind care-takers are trying everything in their power to help me and soon I will be going to a specialist who will examine my injured eyes and see if my sight can be restored. In the meantime, I'm enjoying life at the Centre. We are all waiting for our Activity Centre to get ready as we will all be able to explore and stroll about to our hearts content. Life is good at the Centre, but only one thing is lacking.
I really need a Guardian Angel to make my life complete. May be it's you.
PATCHY
I came to Deonar Centre about two years ago when a kind person in my locality noticed that one of my eyes was swollen and giving trouble. When I reached the Centre, my life became interesting and good. There are good Doctors to check our every ailment and as soon as I came in, I got treatment for both my eyes. Of course I can't see, but the pain I was experiencing soon disappeared. What a relief. After a few weeks at the Centre, I learned how to climb the fence of the Blind Ward and escape into the compound. Of course my kind Care-takers knew exactly what I was up to, but they didn't mind. Now I stay outside most of the time and my favourite place to relax is the Office . I have also made some very good friends, who come to the Centre, just to visit me, to walk me on a lead and to give me a bath when I need one. I've got so many friends and admirers now, I'm really satisfied with life! I noticed one thing. Most of the Blind dogs have a special person called their Guardian Angel. Now if only I had one too, my life here would be complete.

I'm just waiting for that lovely person to chose me. Just imagine, among all my friends and fans, I will have a Guardian Angel too! Just love the life here at Deonar Centre.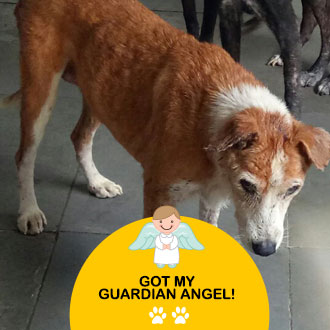 MAGGIE
I'm quite an old lady and suffer from the usual old age ailments. I used to live in nearby Baiganwadi, and one day a friendly local boy called Sachin, noticed I had a badly injured ear. Yes, it was painful, but we dogs are used to suffering in silence. I was so happy when Sachin got me admitted to Deonar Centre Hospital for the treatment of my bad ear. IT was this year on 11th February. I remember the day as at last my ear stopped paining and the flies stopped disturbing me. I got the best treatment, the kindest handling and the best food every day I have ever tasted. I also got to relax under a fan in a nice cool room. It was then that the Doctors noticed something about my eyes. They found I had bad cataract and I could not see at all. It was then decided by the people in charge including the Vets, that it would be best to keep me at this very pleasant Centre itself. It was a real relief for me, as life on the outside is quite a struggle, especially for an old girl like me. I like the life here, we oldies like to rest quietly in the sun, and that's exactly what I enjoy here. I believe our kind Care-takers also have plans to make a special garden and activity centre for us blind dogs. We can't wait! Imagine being able to wander around and explore in safety and comfort - that too when one is completely blind! So I am really happy that Sachin thought of bringing me here where I have so many good people taking full care of me and my needs.

Now all I need is a good person like you to be my Guardian Angel then my happiness will be complete.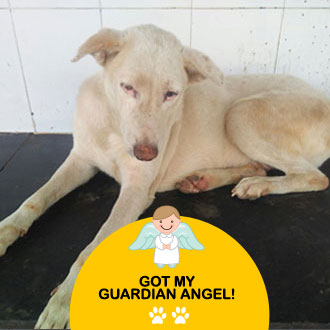 ALFIE
My name is Alfie and I'm from a very nice area - Kalina University Campus. The BMC Van one day in July 2017, brought me to this lovely Centre for my ABC operation. But in the process, it was found out that I was going blind. My condition slowly became worse and now I can't see at all. Fortunately, I am at this Centre where us blind dogs are really cared for so well.

As soon as you chose me and become my Guardian Angel, my life will be happier still.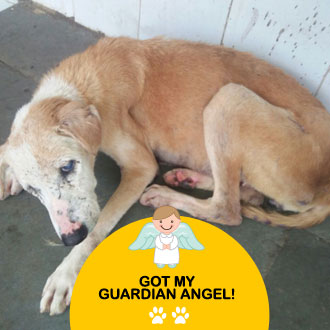 SAMMY
I'm from a poor area in Kurla West. It is known as Buddha Colony. My good friend from the same locality, noticed that I was having trouble walking about and then he noticed I was blind. It was he who contacted this Deonar Centre and got me admitted here so that I could stay safe and healthy. I have a very nice life here and my good friend comes often to visit me. His name is Sammy and that's how I got my nice name!

I would now really like a special Guardian Angel like all the other blind dogs have so that my life will be complete.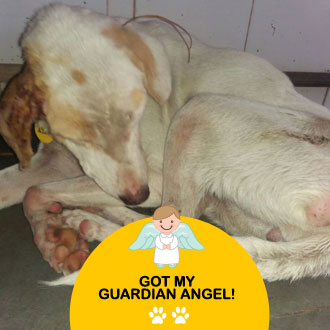 NINU
I've been in this Centre for two months now and I must say, I just love the place. It is so peaceful and the food is so good and we get two meals a day! Actually I'm from a very noisy place: the Fish Market in Mulund East. I have a good friend there. Her name is Malti Patil and she owns a Fish Shop in the market. It was she who noticed that I was having trouble with my eyes so she got me admitted into the IDA India Deonar Centre and I stay in the lovely enclosure especially kept for all us bind dogs. I have friends and daily care from the Doctors and other staff and I am also waiting to enjoy the special garden made just for us.

Want to make me happier still? Do become my Guardian Angel. Thanks so much.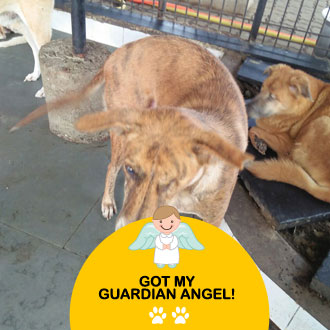 MOTI
I'm a big handsome guy who still likes to play even though I grew up long long ago! I'm from the Mata Devi Temple area in Kanjurmarg near the highway. I have a lot of friends there and some of them noticed I was having trouble with my eyes. When I was brought to the Hospital in Deonar in July 2017, I had to have surgery on one eye. No problem, as I had the other eye. But then I developed cataract in the second one. Now I am at the Centre and having the time of my life. Love meeting people - humans are great!

All I want now is a special Guardian Angel of my very own.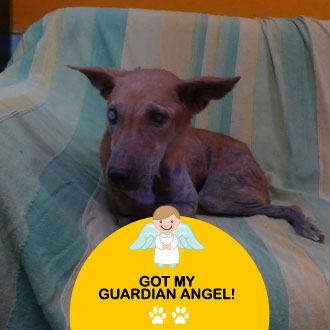 NONNY
I'm quite a delicate little dog who can't see and my name is Nonny. I was brought to this nice Centre in 2015 from Kokannagar in Bhandup. I came in the BMC Van and was due to have my ABC operation. Then the Doctors noticed that I had cataract and that maybe I couldn't see so well. So glad someone noticed! Now I am safe and very well fed and everyone here is kind to all us dogs. All of us go in turn to the Eye Doctor (in a private van) to have our checkups and get meds that will help us. Really like this place!

All the dogs have Guardian Angels and I'm also waiting for one. Will you be mine?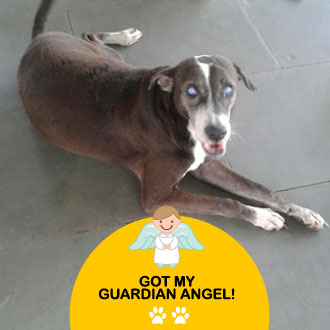 JAYZEE
Hi all. My name is Jayzee and I am now a happy resident of the IDA India ABC Centre at Deonar. I'm from Kurla West where I stayed since I was a pup. Last year I met with an accident near a High School and my good friend Kartik brought me to the Deonar Hospital for treatment. When I was being treated, the Vets noticed that I couldn't see. So I stayed here, safe and comfortable with good food and enjoying all the other amenities like the lovely garden made especially for us blind dogs.

Now I just need one more something in my life - a Guardian Angel all my own.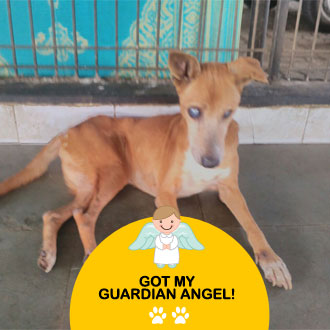 LILY
I'm Lily from nearby Lalmati Garden at Chembur Colony. I have lived there for a number of years and one special friend of mine, Rajesh Khanna who looks after many of us street dogs in the area, noticed that my eyes were looking strange. I was developing cataracts in both eyes and slowly I completely lost my sight. This was in 2016 and at once my friend Rajesh asked if I could stay in this safe place at Deonar. The road is dangerous for all us street animals and if we are blind it is much much worse. I am living in a very nice and cool enclosure now along with other dogs who are blind. We have access to a beautiful garden and we just love the grass. We are examined and cared for by a caring staff and many volunteers visit and pamper us. With two good meals a day served to us, what more could a dog want? Yes there is one more thing.

I just need a Guardian Angel of my own. All the other dogs have one and now it is my turn!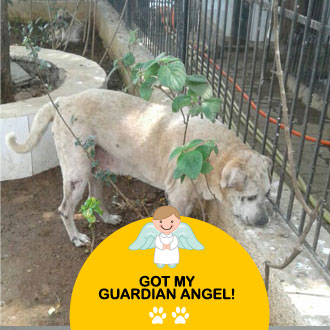 BUSTER
Hi all. I'm one of the tough guys in the Blind Ward and my name is Buster. I was quite a well known alpha dog in my area in Mumbai known by all the local dogs and respected, but slowly I lost my sight and hearing! This was not much of a problem as I had a wonderful young lady taking care of me and keeping me fed and safe even though I lived on the road. But I've become a bit old now so she decided it was better for me to stay safe in a place where I would be well taken care of. I must say, I like it here. The living conditions are good and the food is great! I put on a lot of weight as I grew older as I really appreciate my food so I do sleep a lot now. But this place has a garden and I make sure to take a round every day and spend sometime relaxing in the Pergola. Now it's Summer time and the living is very easy but I still want something else.

Will you be my Guardian Angel? All the other blind dogs have one.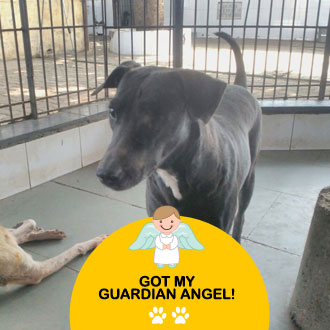 CHANGI
My name is Changi and I'm eight years old. I've been living in this lovely Blind Dog Enclosure for a year now. I'm from Nagpur Nagar Ghatkopar East, and lucky for me, a kind person noticed I was having trouble seeing things. It was found that my left eye was blind and the other was damaged. I was brought to this Centre where I am now very comfortable and well cared for. Our enclosure is nice an cool and bright as well. We relax there and now we have a beautiful garden we can actually enter this straight from our enclosure as and when we like. People here are so thoughtful they even thought of this! We have a good staff and the Vets come and check us to see that all is well. We go on rotation to an eye specialist to see if anything can be done to help us with our eye problems. Volunteers come in and bond with us on weekends and life is really good - we really like the food! Now one thing is left to make my life complete.

I need a wonderful person to be my very own Guardian Angel.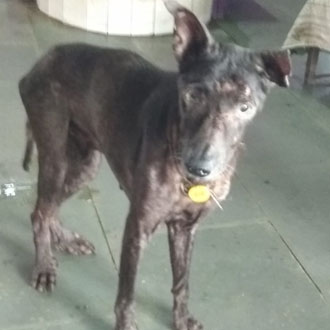 NORO
I'm Noro and I used to stay near the Ayappa Temple, Collectors Colony, Chembur. My friend sent me to the IDA India Centre in March this year, when I had met with an accident on the road. I can't see at all and I could always hear the heavy traffic all around. It was scary. I also have a bad skin infection, but all my health problems are being attended to by the very kind people at Deonar - Vets, Assistants, Staff and Volunteers. I like everything here and best of all, I like the food!

But everyone in the blind ward has a Guardian Angel. Now I'd really like one too!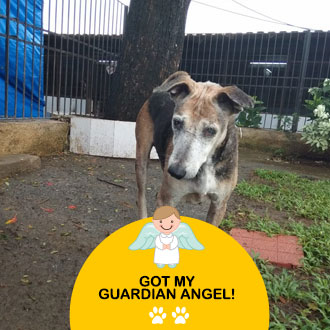 PRINCE
Hi from the IDA India Blind Ward. A sweet little girl chose my name - it happens to be Prince. Isn't that just great? I came in from Gautam Nagar Govandi with a bad wound on my tail. This is a sensitive place to get a wound and it could have been very bad for me, instead I got immediate treatment and a wonderful, safe and comfy place to live in. This is because I just can't see, so my kind Care-takers have kept me here. I've learnt how to be petted as well. I make a sad noise now and then and sure enough, someone always comes to pet my head and talk to me!

Life is very pleasant at the Deonar Centre, but I really need a Guardian Angel too, so I do hope you will choose me.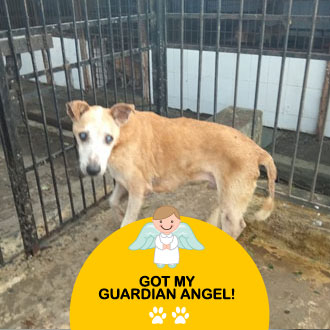 TIMMY
Hi, my name is Timmy and I'm from the Godrej Hillside Quarters in Vikhroli. All us mongrels there have a lovely person looking out for us. Her name is Sangeeta. She always checks each one of us carefully to see if we need medical aid and also sees to our daily meals. The day she noticed I was bind (this happened slowly - and one day I couldn't see at all), she got me admitted to the IDA India Deonar Centre. Now I relax in an armchair, have a roof over my head, fans if I feel hot, good meals to eat and a lovely garden to explore.

All I need now is my very own Guardian Angel.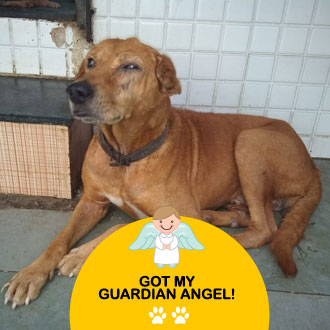 DUKE
Hi. I'm Duke, from the Shankar Pol Vashi Naka slum area. How did I get my name? Maybe because I look so regal all the time. Just kidding. It was given to me by my kind present caretakers - all the staff at IDA India Deonar Centre where I live now. I was brought in from near the railway tracks because I had become quite sick and had nasal discharge. The people living in that slum area are quite fond of animals and one of them used to take care of me. That's how I got my collar. He called IDA when I got sick and when I was brought in, it was found that I couldn't see anything. Now all the blind dogs have their special enclosure but that is not for me, thanks! I am very comfortable lounging about in and outside the Deonar Office. I sit in a dignified manner and don't disturb anyone and I have learned to love this place. Full of kind people and we get such good food! That too, twice a day! I've been here from February 2018.


I don't have many needs here, but one thing is badly needed; my very own Guardian Angel. Waiting for you.