At any given time, our Deonar Centre is temporary home to a large number of puppies and kittens. Unfortunately, they come in because they have been injured or are sick in some way. Our ABC Centre is not really geared to give quality care to these infants it is a Centre for animal birth control after all. But we always try to do our best and ensure that they have a future, and a chance at a full and happy life in the years to come.
Recently, we appealed to you all for renovations to the puppy pen and we had a marvelous response and work has already started on the much needed renovation.
This special Fund is named after one of the sweetest, happiest pups we ever met - you can see from his picture just what a lovely little character he is. With us for quite long with a fractured back leg, due to an accident which wiped out half his little family, Golu brought us much happiness while he was in our care. Finally he was reunited with his mother but we thought we would use the lovely experience of looking after him to benefit all the other little ones in our care. So we created "Golu's Fund".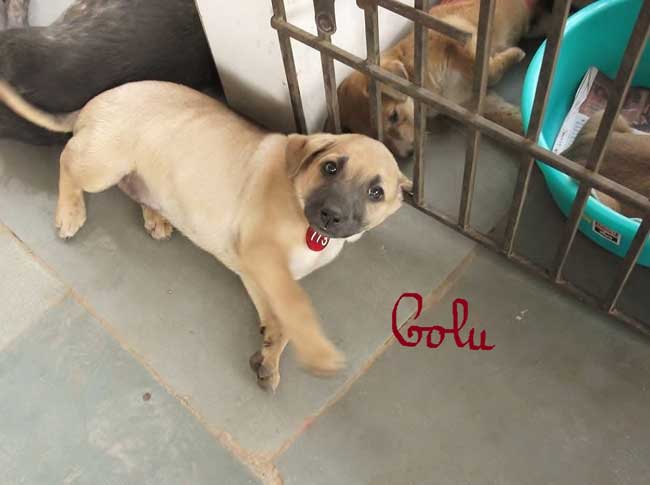 It will be utilized in the following ways:
Vital xrays will be taken when required to help in treatment of fractures and breaks.
Little enclosures will be made safe and comfortable for all our patients in the Puppy Pen and Kit Ward.
Vital Vaccinations will be bought and given to each infant as it comes in and in this way, lives are saved.
Good nutritious food will always be made available. The infants are always given this, but sometimes the expense proves too much. We need help to feed them and help them recover. One pack of Milk-o-Pet, made especially for canine and feline infants costs Rs.125/- and lasts one week for a single baby. Cerelac, again an excellent food for the little ones, costs Rs.160/- per pack and lasts one week when feeding a single infant. Besides this, they require Vitamin drops, Liver tonic and other medications to boost the immune system and health as each one is deprived of vital mother's milk.
When in our care, we try our best to get the healthy pups adopted. This costs as well. Very rarely can a free foster home be found but there are fosters for a fee of anything from Rs.125/- to Rs.200/- a day. If we can ensure a foster home until adoption, a life will be saved. Staying in the middle of sick and injured pups and kits can make the healthy little one pick up an infection. Only foster care can ensure continued good health and a chance at getting adopted.
Lastly, if expensive medical treatment, like an operation is required, we need help if the procedure has to be carried out to completion.
Help all the little Golus who come to us and are left in our care until they are well. Puppy Pen and Kitten Enclosure updates will be regularly given to keep you posted on the welfare and progress of all our sweet little charges. There is really nothing so wonderful as being a part of the effort to save these precious little lives.
Looking forward to your generous donation folks to make this dream come true.
We are registered with the charity commissioner.
All donations within India are exempt from Income Tax under section 80-G of the Income Tax Act.
We are registered under the Foreign Contributions Regulation Act (FCRA).
Other ways to donate:
Mail cheque favouring 'In Defense of Animals, India' to the office at Dadar (7, Shanti Kunj, 124, Hindu Colony, 5th Lane, Dadar, Mumbai-400014)
Deposit cash directly into any branch of Bank of Baroda with instructions to credit amunt into Savings Bank Account No. 04060100019102 of 'In Defense of Animals' Bank of Baroda, Chandavarkar Road, Matunga, Mumbai 400019 RTGS/IFSC Code: BARBOCHANDA MICR No. 400012046. However, please also send an email to us on info@idaindia.org. and inform us that you are donating to the Golu Fund.